Eye care professionals specialize in understanding how the human eye really works, as well as diseases and conditions that affect your vision – many of which do not have obvious symptoms. Eye doctors know how age and risk factors affect vision over time for young and old, and they understand the benefits and features of corrective lenses including eyeglasses and contacts.
Our optometrists take the time to explain the results of your eye exam, describe your options and listen to your eye care needs. Because maintaining good eye health is an ongoing partnership, we encourage you to ask questions and share your health information, which could be vital to monitoring, diagnosing and treating potential vision problems.
Meet our doctors: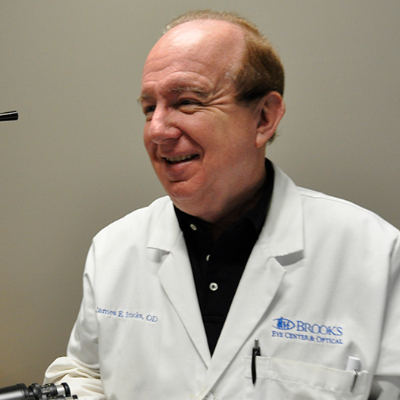 Dr. Brooks is the longest practicing optometrist in the Columbus area, establishing his practice in 1977. Dr. Brooks' delivers superior, cutting-edge eye care administered through his highly-trained, knowledgeable, and caring staff. Our goal is to provide excellence in eye care to the patients of the Golden Triangle area through technology and personal attention. Come by and experience the superior service and vision care of Brooks Eye Center today.
Dr. Brooks is a graduate of Southern College of Optometry and has been in private practice since 1977. He is a member of both the American Optometric Association and Mississippi Optometric Association, including the Northeast Central Society.
In recent years, Dr. Brooks served on the MOA education committee, as president of the Northeast Central Society, and treasurer of Pushmataha Boy Scouts. He has also held memberships with the Columbus Lions Club, Heritage Academy Sports Boosters, Heritage Academy PTO, Kiwanis Club, and has served as president of the Optimist Club.
Dr. Brooks has completed the Dale Carnegie Course and is an active member of the Columbus Rotary Club, and the Columbus-Lowndes Development Link.
Dr. Brooks has a wonderful wife, Rosemarie, and two children, Alliemarie and Tinsley. He is a member of the Seventh Street Church of Christ, where he has taught Sunday School.
You may contact him directly at drbrooks@brookseye.com.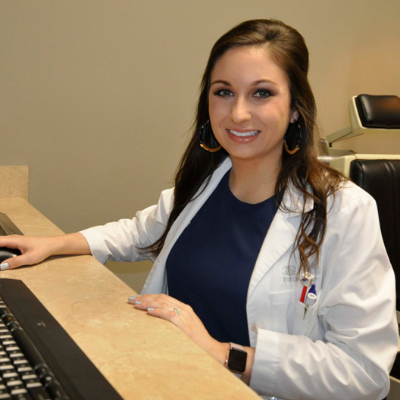 Dr. Earwood joined Brooks Eye Center in August 2017. She is proud to be a part of this well established optometric practice and to have the opportunity to work alongside Dr. Brooks and the wonderful, caring staff at Brooks Eye Center.
Dr. Earwood is originally from McComb, Miss. Dr. Earwood graduated magna cum laude from the University of Mississippi where she was a member of Phi Beta Kappa and Phi Kappa Phi honor societies along with being a member of Kappa Delta sorority.
In May 2017, Dr. Earwood earned her Doctorate of Optometry degree from Southern College of Optometry in Memphis, TN. While at SCO, she was a member of the optometric honor society Beta Sigma Kappa and was heavily involved with the Mississippi Optometric Student Association. Dr. Earwood is a current member of both the Mississippi Optometric Association and the American Optometric Association. "I am so proud and honored to become part of such a highly-respected optometric practice," says Dr. Earwood. "This is a dream opportunity to work alongside Dr. Brooks and the wonderful, caring staff at BEC. It is the perfect learning environment to grow my skills, as well as the Brooks Eye Center practice."
Dr. Earwood is married to Kevin Earwood, a lifetime resident of Columbus. She enjoys community involvement, spending time with family and friends, cooking, and raising her puppy, Ivy, which she adopted from the Columbus Humane Society.
You may contact her directly at drearwood@brookseye.com.